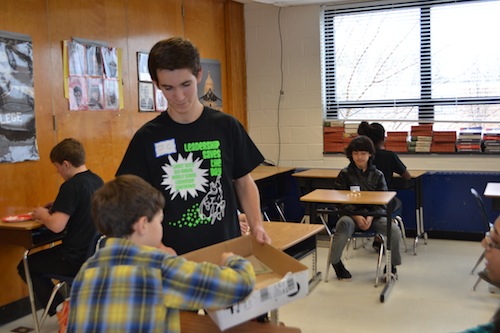 Dozens of middle school students gathered at Jefferson on Feb. 2 for the Middle School Leadership Conference.
The event was sponsored by the Student Government Association (SGA), but included workshops that were lead by student volunteers from many backgrounds. Workshop leaders were chosen through an application process that was publicized through Facebook and the Intranet.
The workshops covered leadership across multiple areas, including sports and business. Some workshops started out with a PowerPoint presentation hitting the key points and continued with critical thinking or team building activities for the students.
In addition to teaching the students about leadership skills, the conference also served as a way to introduce the middle school students to Jefferson.
Clarence Hempfield, the parent of a seventh grade student from Beville Middle School in Prince William County, hoped the conference would help his son choose which high school is best for him. "I hope he gets a better appreciation for what this school has to offer," he said.
The conference included Q&A sessions with the students, while AP Government teacher Scott Campbell spoke as a keynote speaker.
Last year, the SGA asked the participants of the conference to fill out feedback forms to help them get a better sense of its effectiveness and impact.
"It has changed the students' perception of TJ," said senior Kaley Thornton, the activities coordinator on SGA's Executive Committee. "It makes it seem like a lot more of a positive environment to be in."
Story continues below advertisement