TJ Quiz Bowl competes on NBC4 'It's Academic'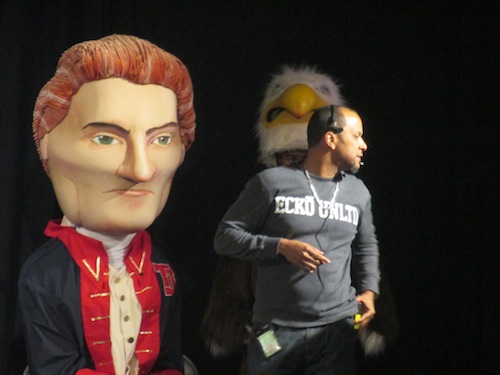 The "It's Academic" taping studio at NBC4 in D.C. Northwest was hopping with energy for the match between Jefferson and area high schools, Gaithersburg and National Cathedral School on Feb. 2. The TJ Quiz Bowl team, seniors Raynor Kuang and Betsey Goodwin and junior Sid Verma, looked stoic and confident.
The teams fought in a nail-biter. Inspired by the Gaithersburg band, the lively mascots – including a showing by our own Tommy J, and the animated crowd of supporters, the outcome wasn't sure until the last seconds.
"It was a close match," said Principal Evan Glazer, who came to support the team.
The competition will air on March 30. Although the final scores can't be released until then, interested parties can reserve April 6 to see the TJ Quiz Bowl team again.