The sounds of Chinese zither, Korean drums and K-pop intermingled together during Jefferson's Lunar New Year celebration on Jan. 25. Also known as Chinese New Year, Lunar New Year marks the beginning of spring and a new year on the lunar calendar. It is celebrated in various Asian countries and communities around the world.
"Lunar New Year is a time for families to come together, often through a large meal," junior Taohan Lin said. "A lot of the student body celebrates Lunar New Year, so I think it's great we can celebrate together at school."
Organized by the Parent Teacher Student Association (PTSA), Jefferson's Lunar New Year celebration was one of the multiple cultural events the PTSA Diversity Committee hosts every year.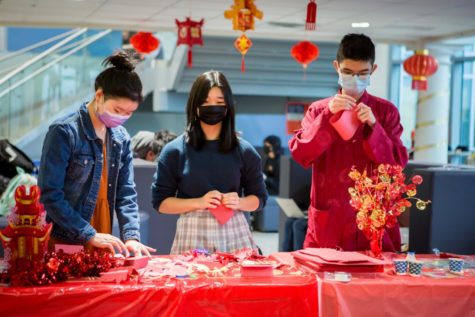 "The celebrations we throw are fun, but the point is to build community specifically through the lens of diversity and allow a group at TJ to share their culture," PTSA Diversity Chair Michele Hyde said.
Students had the opportunity to try out cultural activities such as calligraphy, fan painting, and the Dalgona candy challenge from the popular Korean drama, Squid Game.
"The calligraphy was really cool since the ink was originally clear, but when it touched the paper it turned black. Over time, the ink on the paper faded away, which I found super interesting," freshman Olivia Wu said.
Even though Lin has celebrated Lunar New Year for his entire life, the activities at Jefferson's celebration helped him delve deeper into the history and meaning behind the holiday's traditions.
"Around Chinese New Year, I'll often ask my parents 'what are these?' about different foods and celebration items, so it was nice to get a better idea of how to say things in Chinese and Cantonese and how they're involved in Chinese New Year," Lin said.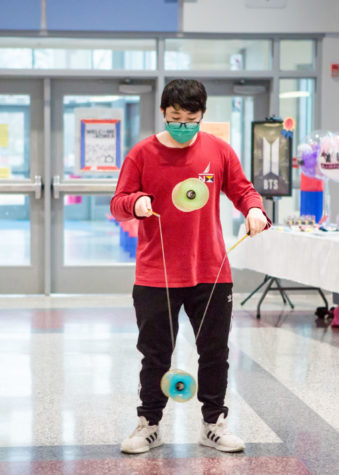 Food was a highlight of Jefferson's event. Over 500 students sampled various Asian foods, including spring rolls, dumplings, sushi, and noodles.
"We need a lot of volume, so we ordered some food using donations. But part of the point of these events is sharing cultures, so I absolutely want parents to bring a special homemade dish they made," Hyde said.
Another important aspect of Lunar New Year are red envelopes, which symbolize prosperity and luck. During the holiday, families and friends often give each other red envelopes filled with money.
"I usually get red envelopes from my relatives as a gift for Chinese New Year, so I thought it was a nice touch that we got them at TJ's celebration," junior Zani Xu said.
The celebration also featured performances by students, including junior Darren Kao and sophomore Jaydon Sun's diabolo performance. Diabolo, or Chinese yo-yo, involves spinning and balancing an hourglass-shaped object on a string.
"I feel like diabolo is a really cool skill to share. There's a big spike of nervousness when you see the people there, but in the middle of our performance, I started smiling, so it got better," Kao said.
Students also enjoyed the opportunity to connect with their peers at the celebration, especially because it's not always feasible for students to reunite with their families during the Lunar New Year. 
"We didn't really do much at home [for Lunar New Year] because it's kind of boring when it's just ourselves," Wu said. "I jumped at the opportunity to attend a celebration with my friends."
Story continues below advertisement