Science Olympiad breaks record in Pennsylvania invitational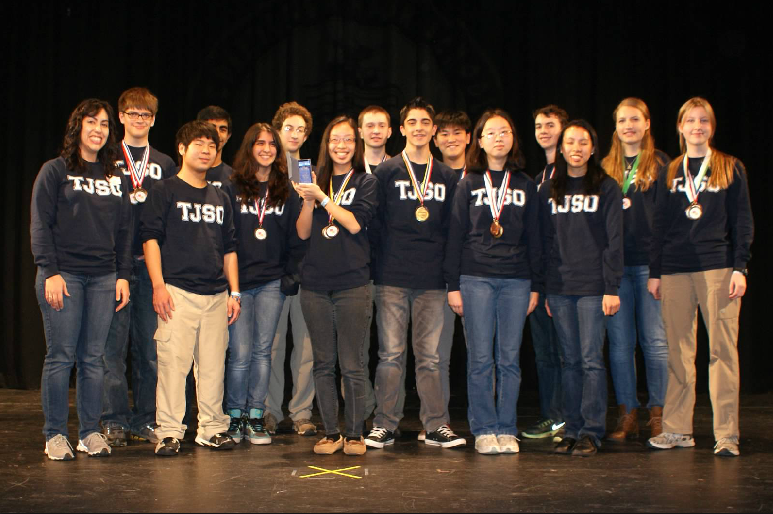 The Jefferson Science Olympiad team traveled to the Battle at Valley Forge Invitational in Pennsylvania. By the end of the day, the team had placed third, a record in recent years.
"This was our first competition," said the secretary of the club, junior Emma Puranen. "It was sort of like a practice round."
Despite it being the first competition, it was a difficult tournament because of the variety of teams present. The competition consisted of teams from multiple states, including some who regularly attend Science Olympiad's national competition.
Overall, the competition is divided up into 23 different events, ranging from Astronomy and Geology to Forensics and Engineering. In all of the events, teams participate as a set of partners who work together in two to four events.
The team from Jefferson included seniors Katie Hsia, Amy Chen, Austin Ralls and Alec Brenner; juniors Sparsh Gupta, Puranen, Avand Lakmazaheri, Jonathan Lee and Owen Gray; sophomores Billie Males and Janice Ong; and freshmen Ava Lakmazaheri, Andy Zhao and Ryan Gottwald. Hsia is the captain of the team, and they are sponsored by biology teacher Aubrie Holman.
The major regional competition for Science Olympiad will take place in March, followed by the state-wide competition.
"I feel optimistic because we did really well considering the high level of competition. Hopefully, we can apply this at States, which is where it really matters," Puranen said.