A brief word on 'In the Mood for Love'(2000)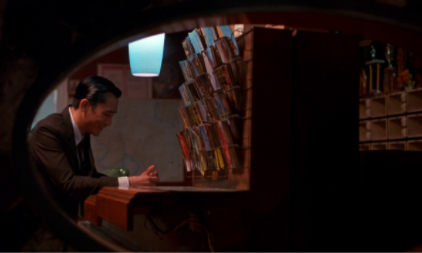 Originally published in the  September 2021 issue of tjTODAY.
If you found Tony Leung's role in "Shang-Chi" as compelling as I did, then I implore you to give his Hong Kong career a chance. Leung has worked with many of Hong Kong's finest filmmakers, but of all his collaborations, perhaps his most fruitful was with renegade filmmaker Wong Kar-wai in the 2000 masterpiece "In the Mood for Love". 
In "In the Mood for Love", Tony Leung and Maggie Cheung give two of the finest romantic performances of all time in a torturous ballet of glances. The premise is simple: in 1960s Hong Kong, Chow Mo-Wan (Leung) and Su Li-Zhen (Cheung) find out that their spouses are cheating on them with the other person's partner. They catch feelings for each other in a romance that they could never possibly commit to because of the surrounding gossip. What follows is a study in the mechanics of desire, where Mr. Chow and Mrs. Su try to find solace in each other while still recovering from the betrayal of their partners.
What drives forward this theoretically repetitive sequence of events is largely the excellent performances and superlative filmmaking. Every look is delivered with such painful reservation that it's impossible not to sympathize with the heartbreak of these characters. This is heightened by the lush color palette which sensualizes each frame. 
If you're ever in the mood for a romance which will break your heart in two, or just find Tony Leung as entrancing as I do, I cannot recommend "In the Mood for Love" more highly. Watch it on HBO Max.
Leave a Comment