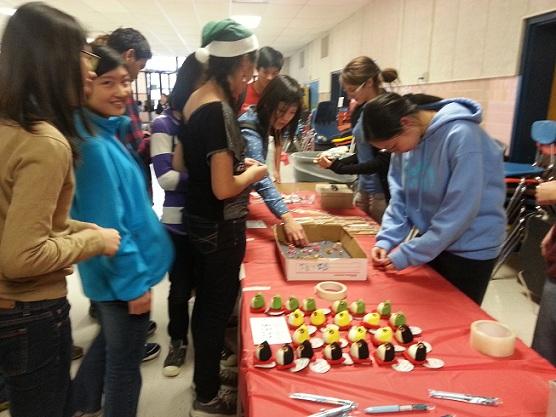 The mouth-watering aroma of red beans and sweet rice wafted across the cafeteria as students joined the Japanese New Year's Festival on Dec. 21.
Sponsored by the Japanese Honor Society, the festival, also known as "Oshogatsu," showcased various delectable dishes such as "takoyaki," a popular western Japanese snack commonly made out of octopus. Many students also relished the savory and chewy Japanese dessert, "mochi," made out of sweet rice and red beans.
In addition to the traditional Japanese dishes, students showed interest in unique Japanese merchandise, including folding fans and earrings made of origami.
The festival also consisted of a calligraphy performance, in which students inscribed the phrase, "Wings of friendship, we fly out to the endless tomorrow," in Japanese while other students danced around the poster.
"It was very interesting to see the calligraphy performance and eat traditional Japanese food," said freshman Yeonju Kim.
The various activities presented during the festival not only helped students to enjoy the event, but also gave them a chance to recognize the exotic and unique aspects of Japanese culture.
"I felt that I could understand the Japanese culture better," Kim said.
Story continues below advertisement