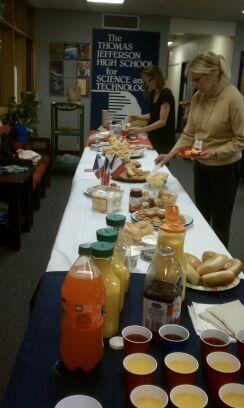 The French Honor Society (FHS) hosted a breakfast for faculty and staff as part of their National French Week celebrations on Nov. 14. FHS served bagels and other breakfast items along with traditional French croissants and crêpes.
"The teachers at TJ work especially hard, and it's really nice to let them know they are appreciated, while infusing some culture as well," Sajala Shukla, FHS co-president, said.
National French Week is meant to promote the French language and Francophone culture. FHS organized various activities as part of the weeklong initiative.
In addition to organizing a French breakfast, the club decorated the display case outside of the library to show the connection between this year's One Question and Antoine Saint-Exupéry's classic French novel, "Le Petit Prince."
Story continues below advertisement