Bello turns Ivy studies into urban education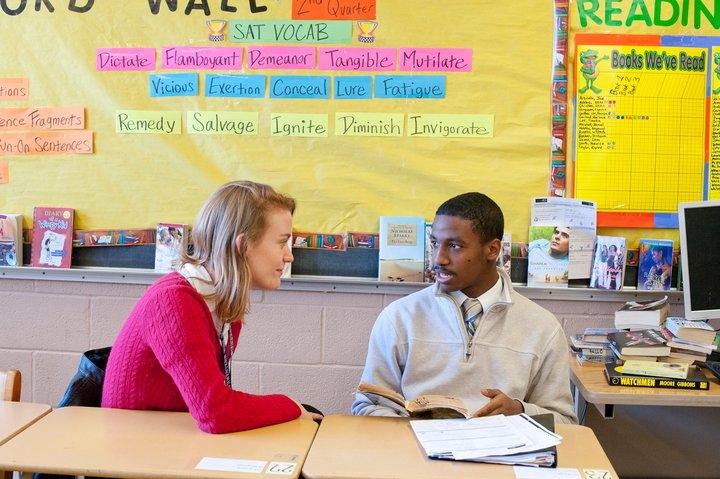 She had heard about Desmond. All of the other teachers had warned her. They said that he was in a gang. He was 19 years old, and still had not graduated. He was a hulk of a man, huge and tough. But Jefferson Class of 2004 graduate Jackie Bello was determined to help Desmond graduate.
Bello worked with Desmond, and discovered that he could not read at more than a second grade level. He was disruptive to the classroom environment and embarrassed by the fact that he did not understand what was going on in class. By the end of the year, Bello had him fully understanding "A Midsummer Night's Dream," and presenting it to the class.
Bello had done this with countless students during her two years at Northwestern High School in Baltimore, Maryland, while getting her master's degree at Johns Hopkins University. For every student she got hooked on a book or excited about school, she felt a burst of pride. All of this was part of the Teach for America program, in which bright graduate students, like Bello, teach inner city students who don't have enough resources.
"The highs were high, and the lows were low," Bello said. "It was definitely challenging and rigorous."
While Bello was at Jefferson, she was president of the SGA. She created Junior Campout, which is now a tradition, and gave back by adding the benches outside the auditorium lobby and doing odd jobs like painting.
Her crowning achievement was securing off-campus lunch for seniors. Bello also participated in the chemistry team and drama and Shakespearian clubs.
"Jackie had endless energy and enthusiasm for absolutely everything," her SGA vice president, Jordan Kaylor, said.
Bello has pursued a love of education throughout college and after. She attended Princeton University for her undergraduate degree.
"One thing I would do when I was touring the colleges is walk up to people and ask if they were happy. At Harvard, they hesitated and sounded unsure. But when I did it at Princeton, everyone immediately said yes," Bello said. Bello wanted to go to a school with as much spirit and pride as her high school.
After graduating from Johns Hopkins, Bello decided to further contribute to education by becoming a consultant in Milwaukee. She is currently writing a $40 million grant and is competing against 900 districts, including Fairfax County Public Schools.  The grant is given in various categories, and the Milwaukee Public Schools district is in the same category as FCPS.
Even though Bello has moved on, she has not forgotten her former students.
"I am still friends with my students on Facebook," Bello said.
(This article originally appeared in the October 12, 2012 print edition.)