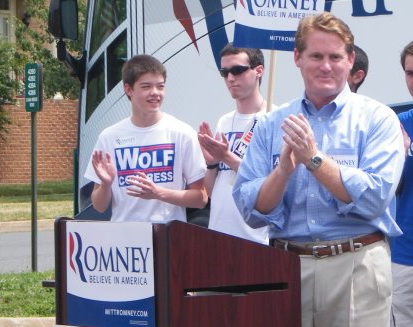 Every week, senior Austin Fleming spends his free time volunteering at the Fairfax County Republican Committee (FCRC) to encourage Republican voting as well as increase voter turnout on Election Day.
Fleming discovered the FCRC last year, while searching for summer internship opportunities online. The FCRC is a grassroots organization that is dedicated to getting Republican officials elected, both locally and nationally.
"I wanted to do something I found interesting and something I could do to actually help people," he said. "Not many people even know who our Congressional and Senate candidates are and so few people vote in those elections."
Fleming endorses Mitt Romney's plan to cut spending, trusting it will bring the country out of the recession. "I do not think Obama has taken full advantage of the position he is in," he said. "We need a change of leadership to really push the U.S. out of its problems."
Some weeks, Fleming works for 2 to 3 hours every day after school. When he volunteers less during the week, he makes up for it by working for 10 hours on Saturday.
"This election is different from previous years," FCRC Executive Director Jason Vespoli said. "We're promoting voter contacts, and we're doing a great job. I really am inspired by the success I'm seeing."
At the FCRC, Fleming spends most of his time phone banking, which includes making calls for persuasion, recruitment and survey purposes. "The more you talk, the more likely it is they will hang up on you," he said. "I have learned to manipulate the script we are given to make it as short as possible, while hitting all the key points."
Outside the campaign office, Fleming goes door to door to contact voters, a process he says gets better feedback. Already, the FCRC has knocked on more doors than it did during the entire campaign in 2008.
"People appreciate that you are out in the sun or out in the rain," he said, "they are willing to talk to you and answer your questions."
Fleming also helps organize rallies and other events the FCRC sponsors. He recently helped with a rally in Manassas. Though he may not get paid, being a volunteer comes with its share of benefits.
The volunteers from the FCRC were given seats in the VIP section at the rally and had the opportunity to meet Romney.
"As of now, I am not particularly interested in becoming a politician," Fleming said, "but I would say I want to be as politically active as possible in the future."
(This article originally appeared in the October 12, 2012 print edition.)
Story continues below advertisement