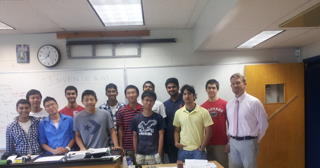 Jefferson's InvenTeam learned on Oct. 17 it is the  recipient of a $10,000 Lemelson-MIT InvenTeams award from the Lemelson-MIT foundation. An official announcement was made to the student body during the Homecoming pep rally on Oct. 19.
The grant is awarded to 16 teams of high school students nationwide to design and invent an assistive technology prototype that provides social support and can be marketed.
The InvenTeam is made up of 12 students and is sponsored by Neuroscience lab director Mark Hannum. The "Autism and Neuroscience Research Team" is comprised of seniors Suhas Gondi, Kevin Huo and Maxinder Kanwal. The "Business Team" is made up of seniors Yash Bhatnagar, Ben Hsu and Venkat Manne. The "Computer Algorithm Team" is made up of seniors Mayank Mahajan and Avinash Ramesh and junior Archis Bhandarkar, and the "Product Design and Fabrication Team" consists of seniors Andrew Jiang, Min Cheol Kim, Andrew Kim and Sarthak Sahu.
Altogether, these students are working on an emotive aid in the form of a bracelet that will use computational algorithms to extract emotional signatures from speech. Then, a simple user interface will be created for the bracelet device.
"Potential beneficiaries include children with autism, Asperger's syndrome, or any of a wide array of similar disabilities that impair the ability to detect emotion, thereby hindering social interactions and the development of meaningful relationships," Hannum said.
Originally, the students had some ideas for applying and decided to apply when they discovered that Hannum had won the grant before at his previous school. The team submitted a preliminary grant application in March.
"Initially, our idea was a way of purifying and harvesting energy from water. But once we moved onto the next round of 35 teams, we were given the chance to change project ideas," Huo said. "We decided to change our project to developing a bracelet that would serve as an emotive aid for autism, which we thought was a more specific and novel idea than our previous one.
After making it to the second round of the competition, the team submitted a revised grant application during the first week of this school year. Although the grant awards $10,000, the team only requested $6,900.
"Right now, we are looking over the logistics of the proposal and planning the process of building the bracelet. In the near future, we plan to get started on developing the algorithms and obtain the materials we'll be needing for the bracelet development," Huo said.
After working on their project throughout the year, the team will present their prototype at the EurekaFest conference at the Massachusetts Institute of Technology (MIT) in June.
Story continues below advertisement