Students let spirit loose at end of Homecoming week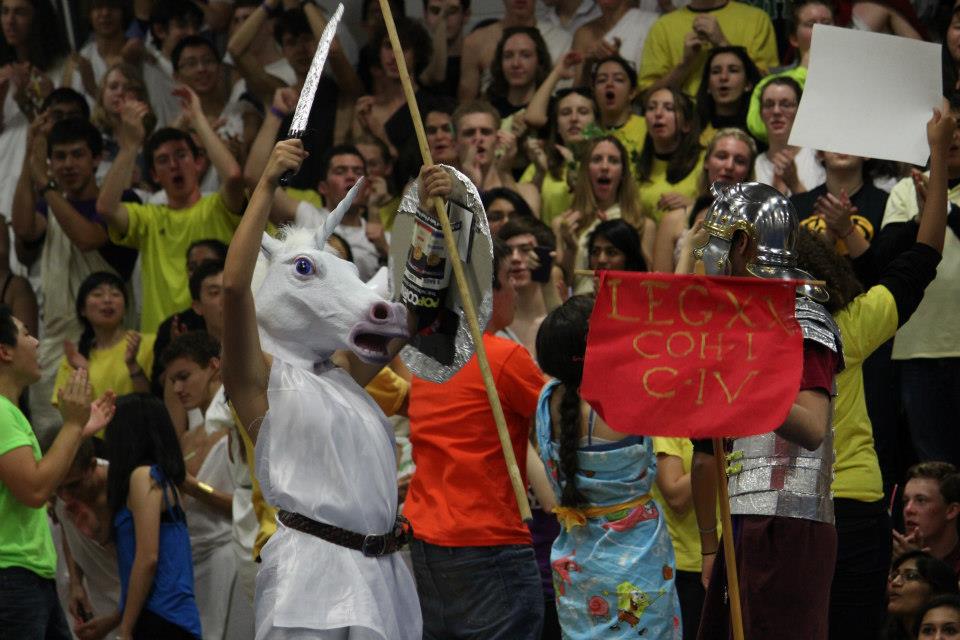 At the end of spirit week, students filled up the stands of the gym in a flood of red, white, blue and togas, while screaming out their respective class chants.
Oct. 19 was the last day of Homecoming week, and during this hour and a half -long pep rally, the students played Jeopardy, watched the cheerleading squad and dance team perform, and finally saw each grade's musical extravaganza (MEX).
"I think MEX is one of the highlights of Homecoming for all the classes," junior Victoria Kim said."It was fun as always, and I'm sad that it's over."
Each of the classes' musical extravaganzas matched their class theme. Some of the highlights of the performances included the freshmen's "Eye of the Tiger" for their theme "Super Safari" and the sophomore's group dance of Katy Perry's "E.T." to represent "Futuristic Funk." The juniors also preformed dueling songs of "Ridin' Solo" and "Single Ladies" for their theme, "Sensational Celebrations," and the seniors' 'Victors and Villains" theme included a blackout of the gym for the mass-coordinated performance.
At half time of the WUSA9-covered football match versus Marshall, the seniors were announced as the winners of MEX. However, during both blocks of the pep rally, the other classes had wins as well. In the first block and the second block respectively, the sophomores and then the juniors won Jeopardy. In addition, the seniors won the T-shirt and banner designs, the sophomores won the canned food sculpture competition and float, and the freshman won for their class cheer.
"I feel like it was a great end and really made me feel part of the TJ community," sophomore Katya Plotnitskaya said.