Students don costumes to celebrate class themes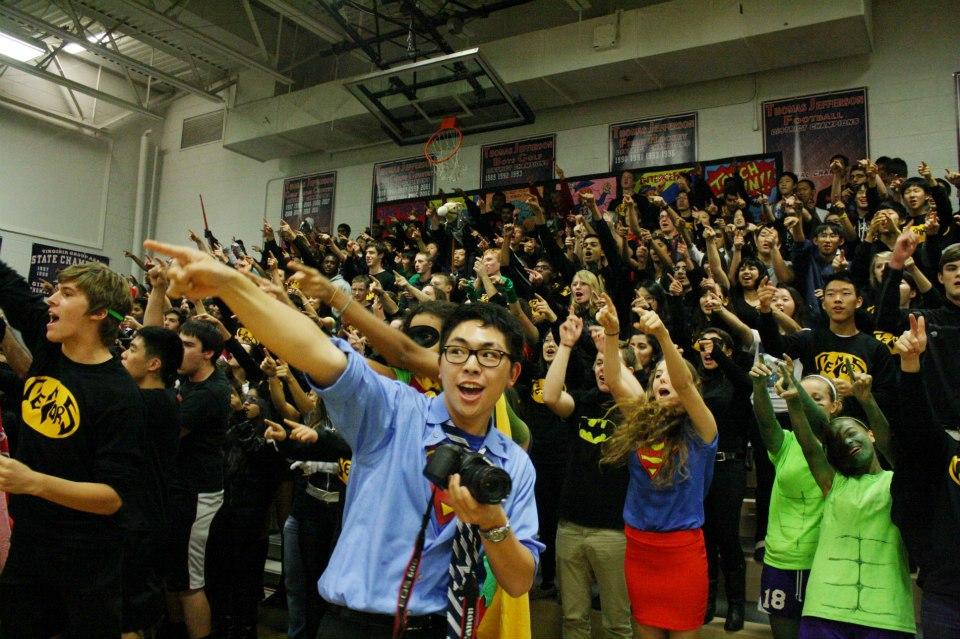 Villainous characters stalked the nearly empty senior stands as civilian dressed seniors held up a sign calling for help.  Then, the seniors rushed into Gym 1, scaring off the villains and shouting out slogans.
The surge was part of the Oct. 18 pep rally during break, the third and last small pep rally of Homecoming Week.
The day's theme, "Motif Madness," had the four classes splinter off to celebrate their own alliterative themes.  The freshmen were "Super Safari," the sophomores, "Futuristic Funk," the juniors, Sensational Celebrations and the seniors, "Victors vs. Villians."
Costumes ranged from superheroes and classic heroes and villains from the seniors to complex animal costumes from the freshmen to robotic sophomores and holiday themed juniors.
Freshman Raghav Ramraj won best dressed male with his elephant costume, while senior Arisa Smith won best dressed female for the seniors. Smith, a dancer, dressed up as Nina Sayers from "The Black Swan."
"My original plan was to go as a demon ballerina," Smith said.  "But Nina would be more universal for people to understand and the black swan is technically is villain in the fairy tale."
The seniors also won most spirited for the third time after their dramatic entrance, though the sophomores also put on a performance with their mass of newspapers.
"It was our battle strategy," said sophomore James Jung, who came up with the idea.  "The idea was to block out the cheers from the other classes."
Homecoming Spirit Week will culminate in the two pep rallies and the Homecoming Game against Marshall today and the Homecoming Dance tomorrow.