Homecoming preparations begin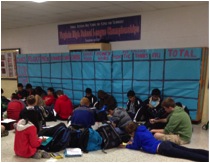 Jefferson's long awaited Homecoming Week starts on Oct. 15, with fun-filled spirit days. These spirit day themes range from the classics like Twin Day and Dress Your Best Day to the crazy ones, like Class Theme Day.  While students everywhere are preparing for the upcoming week, the Student Government Association (SGA), has been preparing for this week since the summer.
To kick off Homecoming, SGA designed the Homecoming points banner. The banner is divided into four rows and 12 columns with each of the columns indicating a different event such as the Musical Extravaganza (MEX), Money Wars and Class Cheer.
"TJ's Homecoming is definitely unique, with pep rallies, floats and MEX," sophomore Jenny Kim said.
As students from each class eagerly prepare for the upcoming week, the class officers have been frantically organizing last minute MEX rehearsals and class cheers.
"We work on our float every day after school, and we also organize everything we buy to hand out to the class," senior class senator Andrew Draganov said. "This year we even tried to organize class wide costumes, like the Batman masks."