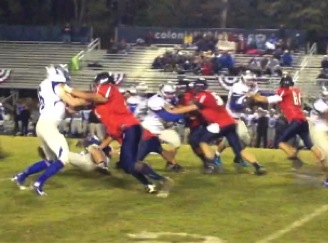 A crowd of students stood on the bleachers, dressed in black and holding signs that spelled out "SENIORS," to support the Jefferson Colonials as they took on the Fairfax High School Rebels under Friday night lights.
The Rebels made two touchdowns in the first two quarters, ending at the half with a score of 14-0.
Coming back from halftime, the Rebels ran the ball almost halfway across the field, heading for the touchdown. Junior running back Kia Eskandarian managed to stop them one yard from the end zone. Though the Rebels made their third touchdown of the night at the next attempt, the block represented an earnest effort from the Colonials.
During the fourth quarter, however, the Colonials took their chance to score. Senior running back Rashad Laher ran the ball from the 20-yard line to the end zone, scoring a touchdown.
Senior Robby Vasta prevented the Rebels from scoring with an interception towards the end of fourth quarter. The Rebels fell short of another touchdown due to a penalty for unsportsmanlike conduct.
Though the Colonials did improve their game in the second half, the players were still not completely satisfied with their performance.
"I think we could have done much better," senior Daniel Min said. "If fewer people were injured, we could have won – but that's not really an excuse."
The game ended with a score of 28-6, leaving the Colonials with a record of 3-4. They will be playing the Marshall Statesmen next week for the Homecoming game.
Story continues below advertisement