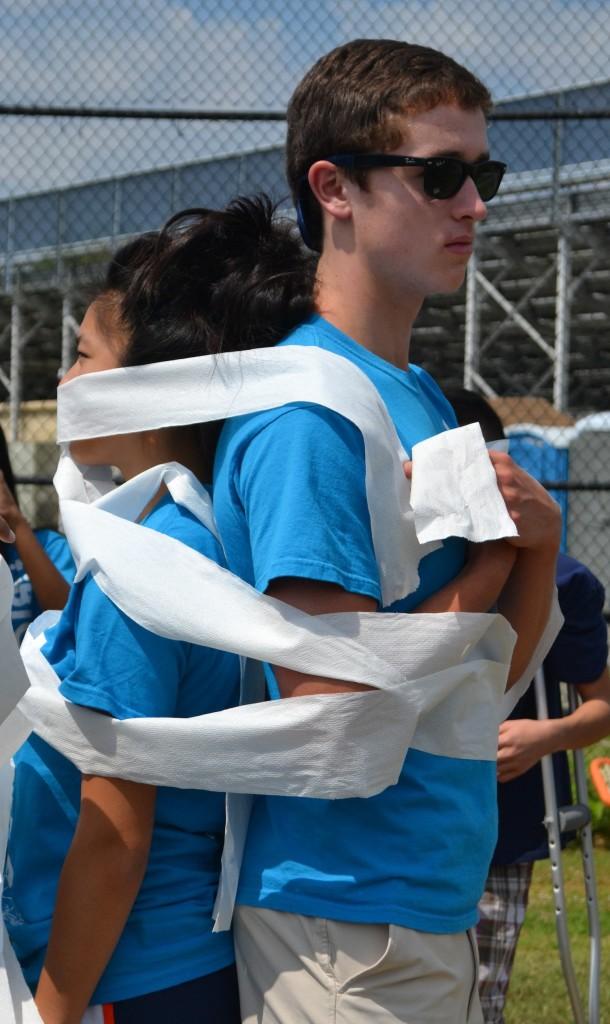 The Class of 2016 was officially welcomed to Jefferson on Aug. 30 during Freshman Orientation. The event began with student and faculty speakers and later focused on the BigSibs program.
Freshmen, dubbed LittleSibs, were assigned to sophomore, junior or senior BigSibs who provide guidance to the younger students and help them make the transition from middle to high school.
"I find it really helpful because I have a good BigSib who ended up sharing all of my interests, and he keeps in touch with me a lot," freshman Sahana Ramani said. Her BigSib is sophomore Anant Das. "I didn't know how time management would be and whether I would be able to do sports, and then he helped me with figuring out the IBET schedule and how everything really worked."
Once LittleSibs found and met their BigSibs at orientation, teams of LittleSib and BigSib pairings toured the building while competing in a scavenger hunt, visited the activities fair, participated in games, and learned cheers on the practice field.
These activities and the entire BigSibs program were organized by senior coordinators Saloni Chaswal, Sebastian Lerner and Michelle Wang and junior coordinators Amy Kim, Care Shoaibi and Suddy Sriram.
"It was pretty challenging. For example, we had originally picked some classrooms for BigSibs and LittleSibs to stay in, but we realized some rooms couldn't be used, so we had to reorganize everything," Lerner said.
Nonetheless, the day was a positive experience for freshmen and their BigSibs. Like many others, junior Jamie Simon and his LittleSib had communicated online before meeting in person and becoming friends.
"I like my LittleSib a lot. I didn't expect him to be taller than me, but he was," Simon said. "We have a good relationship."
BigSibs coordinators plan to hold study skills sessions twice a month during eighth period in addition to quarterly bonding events such as ice cream socials and soc hops. BigSibs and LittleSibs are also encouraged to stay in touch.
Story continues below advertisement