Relay for Life celebrates past and present survivors of cancer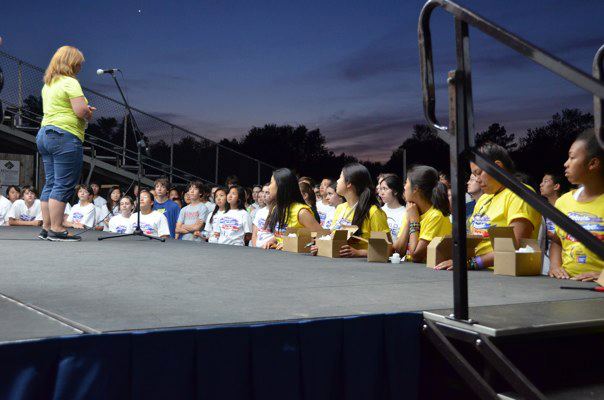 The 8th annual Relay for Life of Alexandria fundraiser took place at Jefferson on May 19. The 750 participants from 65 teams raised a total of $81,274. The 2012 goal is $100,000.
The event kicked off at around 4 p.m. when  cancer survivors took the first official lap around the track. Following the initial lap, the participants at Relay were asked to join the survivors for the second lap.
The highlight of the night was the Luminaria ceremony at 9 p.m. which annually honors and celebrates cancer victims and survivors. The event committee chairs and coordinators placed paper bags with names of these cancer victims and survivors with a candle inside. The names ranged from Class of 2011 member Sebastian Hamilton to recently retired social studies teacher Donald Majeske to other close family and friends.
Candles were also passed around and lit, and the participants took multiple laps around the track in silence to remember those  affected by cancer.
The  Relay for Life committee had also planned Zumba lessons from trained instructors, sponge wars, movies like "Iron Man" and other fun activities. The combination of successful planning and dedication by the participants and survivors helped make the night memorable and impactful.
"All the committees came together and pulled things together," entertainment coordinator Mary Kim Weidman said. "They worked well with each other, and it was because of that, that Relay was so successful."