Boys' tennis wins long-awaited state championship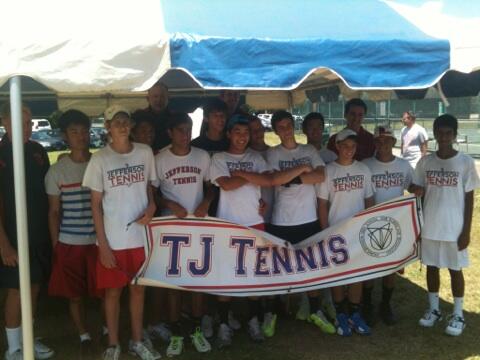 When the Jefferson' boys' tennis team arrived in Newport News, Va. on Saturday morning for the Virginia AAA Boys' Tennis state championship, they knew that they could make school history. After having won several district and regional championships as well as a state runner-up finish three years ago, the team was hungry to finally win a state championship over Langley High School.
"Last year we fell short of our expectations and didn't make it into the state tournament," junior Julian Nguyen said.
Senior Chris Vrabel, who will play for Cornell University next year, was able to beat his Langley opponent, as was freshman Mark Prettyman and sophomore Kevin Wan. Vrabel and Wan also scored a victory in their doubles game, and Prettyman and freshman Nikhil Ramachandran also gave a solid effort and successfully sealed the championship win for Jefferson.
"The victory showed how competitive we were in the tournament," Prettyman said. "We were successful because we were prepared for the match and played well."
The state tournament was the fourth time that Jefferson had to play Langley this season, and marked the fourth victory for Jefferson.
"Our entire season was really memorable, and the resounding success we had can't be attributed to just one person or factor," senior Zach Hosseinipour said. "Our coaches, captains, and really everyone helped play a part."