Being 1.5 in 100
How African-American students and faculty, a low-represented racial demographic, experience and deal with with diversity and difference
February 11, 2018
What is it like to be black at Jefferson?
Walking through the halls on a regular day, you are likely to see few, if any, African-American students as you walk to your various classrooms and settle down for lunch.
It's hard for black students to find others who look similar to them, even though many of the people they encounter have similar interests. The average composition of African-American students in the accepted applicants pool hovered at around 1.5 percent over the past three years. Incoming African-American students face a jarring initial impression of the school: many originate from more racially diverse communities where their ethnicity doesn't make them stand out. When placed in Jefferson's predominantly Asian and white community, these students often feel more conscious of their race. Some of these black students express their candid thoughts below on their transition from middle to high school and the challenges stemming from being a minority at Jefferson.
---
Freshman David Kwabi-Addo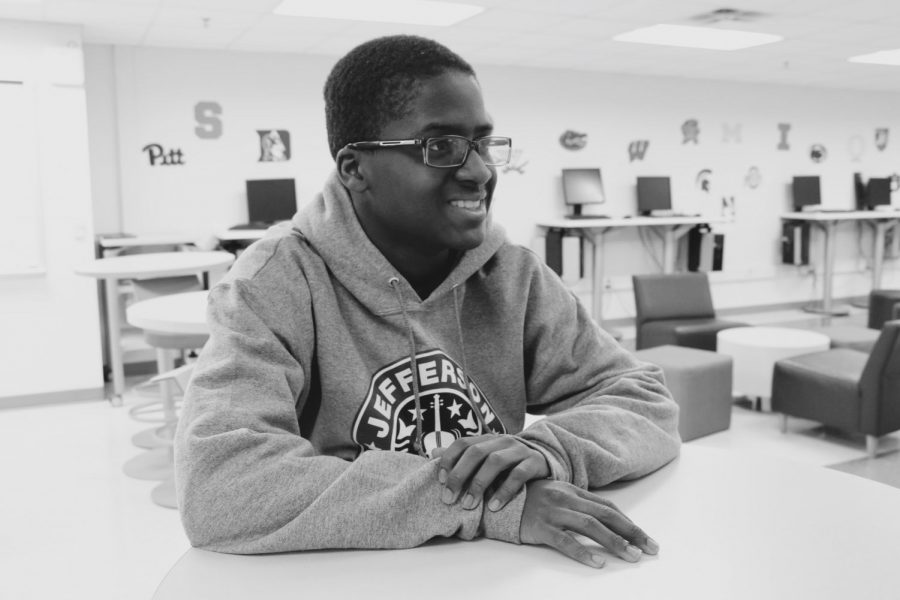 In his Prince William County middle school, David Kwabi-Addo was surrounded by mainly African-American and white students. Apart from him, only two other students — both Pakistani — were accepted to Jefferson from his school. When transitioning to Jefferson, which has a 74.9 percent Asian population in the Class of 2021 and similar trends for the other classes, he felt a drastic change in environment.
"I feel like there's not enough black freshmen," Kwabi-Addo said. "I did start uncomfortably. My middle school was more mixed."
Kwabi-Addo attributes some of the lack of African-American students to differing cultural values. According to him, Asians seem more willing to study for the Jefferson admissions test and pay the $90 fee. Despite being a minority, Kwabi-Addo is reluctant about asking administration for support or to express personal struggles because he doesn't want it to be viewed as a handicap. Besides, he feels more comfortable interacting with school staff members that look like him.
"It's awkward talking to teachers, because I can't relate to them as much as I could in middle school," Kwabi-Addo said. "None of my teachers are black."
However, Kwabi-Addo acknowledges that there are efforts to support African-Americans at Jefferson. Over the announcements, he recently heard about the Black Engineer of the Year Awards, and has attended the first monthly college-preparation meeting of the year held by counselor Andrea Smith. Kwabi-Addo mentioned that he now has "wonderful friends," although every once in a while he is reminded of his race.
"In English we just started watching 'Selma,' the civil rights movie," Kwabi-Addo said. "It's kind of odd, because I'm the only black person in the class, so I just try to ignore [that fact]."
---
Junior Maxwell Jones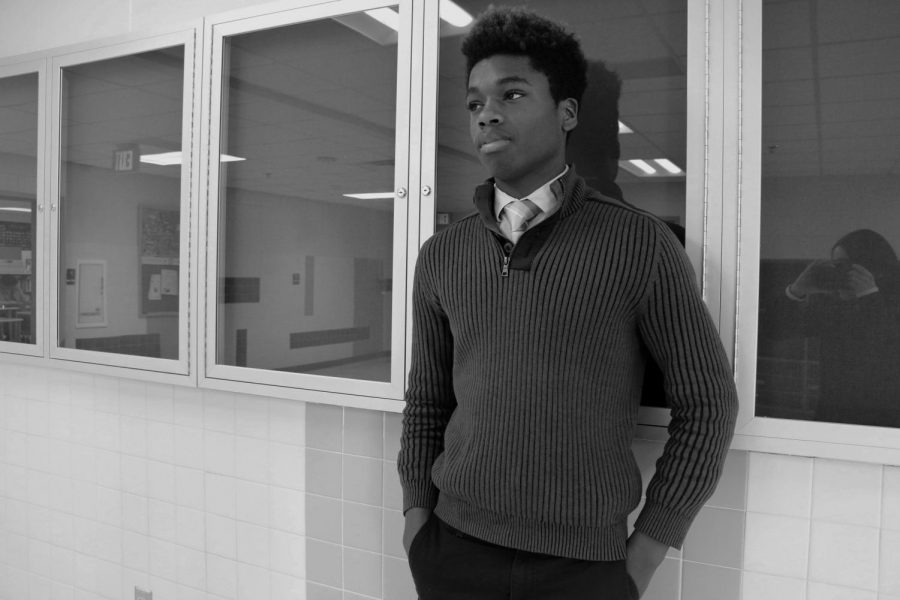 After visiting a plethora of high schools, Jones chose Jefferson because of its level of academic rigor. He wanted to be challenged. After attending a private school, he felt that progressing to Jefferson would be manageable. However, for Jones, there was a slight culture shock between Jefferson and a base school.
"There's more affinity for level of social merit based on level of hardworkingness, or how well you do in class," Jones said. "There's also less social interaction in general."
Jones observed that at Oakton High School, the base school he was zoned for, students all congregate around a speaker in the hallways during lunch to listen to music, which is predominantly absent at Jefferson. Jones enjoys hip-hop tracks and playing basketball, which are not subjects on which he can connect with other Jefferson students. His personality has helped him to adapt.
"I feel like I can voice my opinion to a point where I'm not going to be scared or I'm not going to be upset that no one else has the same opinion as me," Jones said.
Jones believes it is up to the Jefferson community to decide on the school's dynamic, whether that be prioritizing learning or quenching students in a richer cultural experience. Racial diversity may be more beneficial for non-minorities, as having a diverse student body exposes them to varying perspectives and stimulates thought-provoking discussions. Overall, Jones perceives that he experiences the best of both worlds.
"I'm able to keep my own cultural things intact — chilling with people from base school, listening to music, going out to parties — and at the same time take advantage of the atmosphere at TJ and be able to further myself academically," Jones said.
---
Senior Angel Peprah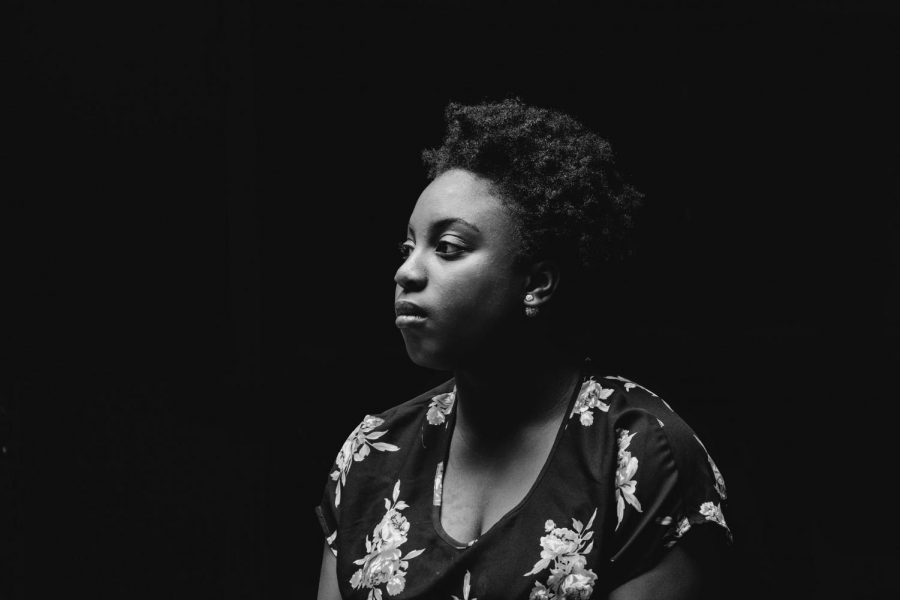 "I found out about TJ the summer before I applied."
Senior Angel Peprah originally applied to Jefferson on a whim; she'd expected to attend Forest Park High School in Prince William County until she stumbled upon this school, initially drawn by the word "science" in its name. From then on, she was committed; she thought she'd found the perfect fit for her driven and nerdy side.
"I wanted to attend because of how in-depth this school goes in STEM; I was doing robotics in middle school and I wanted to keep doing that," Peprah said.
She'd already applied to Forest Park's Information Technology program and didn't enroll in any TJ preparation courses, a culture she wasn't aware of until she got in. When she did get in, Peprah also felt like she stood out — she is the only African-American girl in the senior class — but it is a consciousness that's faded with time and the welcoming community of the school.
"Open house freshman year, it felt like all the parents were staring at me. I'm such an anomaly, but that's just how I felt," Peprah said. "Freshman year, people were like, 'You got in because you're black.' If I did, you'd think there would be more black people here, but no. Over the years, I don't care as much because I'm over it, but I'm definitely looking forward to a more diverse landscape in college."
---
Senior Camdyn Davis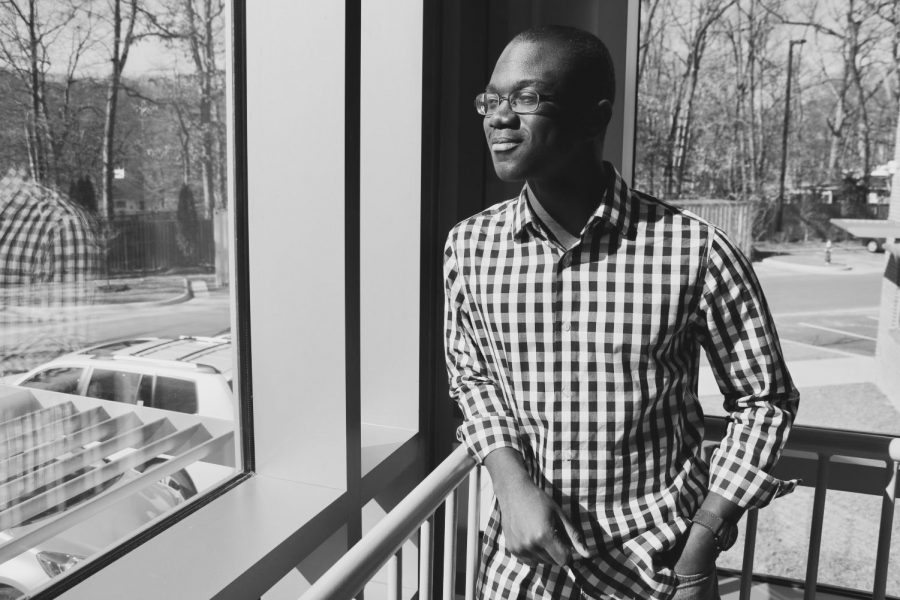 Peprah and senior Camdyn Davis both came from racially diverse middle schools; Davis was a student at South County Middle School where the black population is 19% and there is an approximately equal representation of Asians, Hispanics, and blacks ranging from 12-19% of the overall population (FCPS, "School Profiles – South County MS").
"Once I was accepted, a lot of the kids in my base school were like, 'Oh, you're going to be the "only black kid" [at Jefferson],' or 'There aren't going to [be] any more, ever,'" Davis said. "That was one of the big jokes: you got in, and you're black? That's when I started finding out. I didn't actually realize how extreme it was until I arrived."
Since then, Davis has been working with the Black Student Union (BSU) to increase middle school students' awareness of Jefferson as a viable option. He works hard at this effort in order to increase representation and diversity within the student body. Though his own middle school peers were well-aware of TJ, Davis feels students at similar schools don't have the same type of exposure. Lack of exposure, even to the possibility of attending Jefferson, can contribute to the continually low numbers of students from racially diverse schools who apply to and attend Jefferson.
"A lot of racially diverse and low-income schools, they just don't know about [Jefferson]," Davis said. "There's a panel that's supposed to go out to these schools and they'll recognize that [students from those schools] don't even know what TJ is, whereas schools like Robinson will have all these interest meetings and everyone knows about it. I feel like that's part of the problem."
---
In Feb. 2017, TJTV News partnered with Black Student Union to collaborate on a Black History month feature for the morning announcements. Peprah (starting at 0:12) and Davis (starting at 0:14) are both in the video reciting lines of "I, Too," a poem by Langston Hughes.
Assistant Principal Shawn Frank is the co-founder of Learning through Inquiry, Fellowship, and Tutoring (LIFT), a program to "lift" middle school students from low socioeconomic backgrounds by lifting their visions, confidence and chances of being admitted to Jefferson. Frank wants racial representation at Jefferson to look demographically similar to surrounding schools.
"Representation is what I'd like to see," Frank said. "That really increases diversity and that's valuable in the conversations we have, formal relationships, and learning how to work with different groups."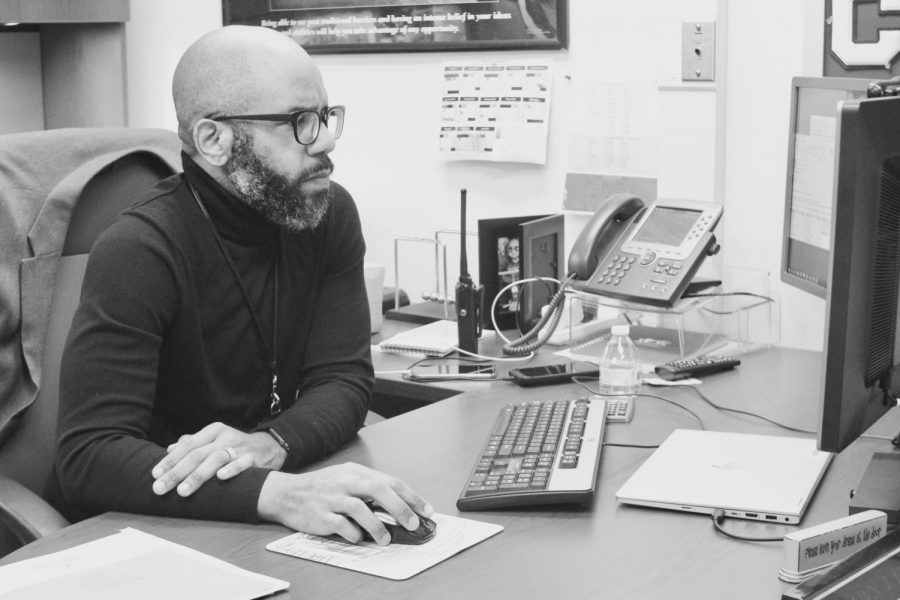 According to Frank, having honest conversations about race and recognizing that we are still working to solve racial issues is integral. It can help break down stereotypes and perceptions and allow students to be more sensitive of each other's cultures. From March 6-10, 2017, the Student Government Association held their first Diversity Week, where the community celebrated the diversity of our students and highlighted the importance of inclusion and understanding amongst our student body.
Recently, a Va. Senate bill sought to increase representation of those different groups at Jefferson; the Senate committee's decision to strike down the bill, which would institute admission quotas for middle schools and students who receive free or reduced-price meals, sparked discussion in the TJ Alumni group about how to increase diversity.
Many alumni and sources voice progress still needs to be made; several groups and individuals continue to push for this issue by penning letters to the Va. Senate, expanding outreach, and supporting students within the community.