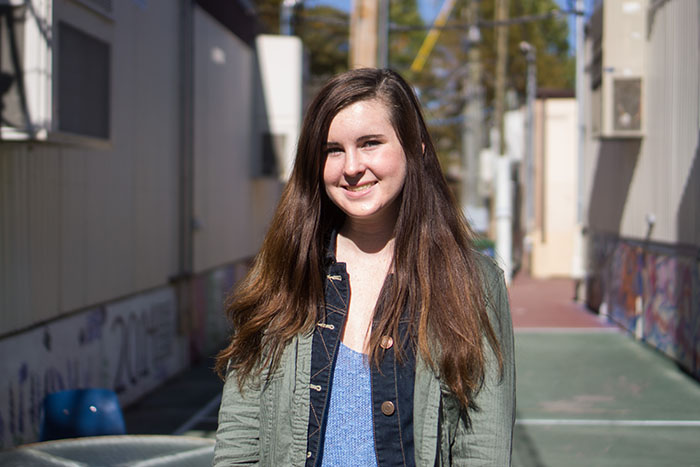 A senior at Jefferson, Lindsay is in her third year of working on the newspaper staff and her fourth year in the newspaper program. As Editor in Chief of tjTODAY Online, she manages all content for the online paper, edits articles for both editorial staff members and staff reporters, works with the staff to come up with ideas and keep a list, and works on the print paper, usually on back page. In the past, Lindsay has served as Online Editor, Entertainment Editor, and Features Editor.
Lindsay joined tjTODAY because she wanted to learn how to write better and wanted to be involved in the TJ Community in ways that allowed her to express her creativity.
Outside of journalism, Lindsay is captain of the Varsity Dance Team, a member of KLR Studios of Dance and Music K'llr Comp Crew, historian of Arabic Horizons, a member of French Honor Society, a Girl Scout and co-secretary of TJ Guitar Club. She also works on political campaigns outside of school. After high school, Lindsay would like to pursue a career in politics, law, or journalism.
http://lindsaywilliams.pressfolios.com
Lindsay Williams, Online Editor-in-Chief
Apr 08, 2016

Lacrosse Coach Profile: Coach Jackson Kibler

(Media)

Jun 16, 2015

Students should be able to have phones at ANGP

(Story)

Jun 16, 2015

Renovation Sensation

(Story)

Jun 12, 2015

TJ Partnership Fund recognizes Jefferson supporters

(Story)

Jun 05, 2015

Global studies students hold wage gap discussion

(Story)

May 29, 2015

Students hold discussion about campus sexual assault

(Story)

May 22, 2015

"Supernatural" finale opens doors for dramatic next season

(Story)

May 13, 2015

Jefferson Boys' Varsity Lacrosse plays last home game and has Senior Night

(Story/Media)

May 07, 2015

TJ On: FCPS Budget Cuts

(Story)

May 01, 2015

Jefferson community recognized Day of Silence for LGBT+ students

(Story/Media)

Apr 08, 2015

New Zealand ambassador speaks to Jefferson students as a part of tjTED

(Story)

Mar 28, 2015

tjTOMORROW: The "Dos" and "Don'ts" of being on a waitlist

(Story)

Mar 25, 2015

Jefferson seniors participate in hands-on government learning experience

(Story)

Mar 07, 2015

Jefferson students host Japanese exchange students in annual program

(Story)

Feb 25, 2015

Technology heralds new era of journalism

(Story)

Feb 22, 2015

Teachers should reassess how they deal with lost classroom time

(Story)

Feb 21, 2015

TJ On: Chapel Hill Shootings

(Story)

Feb 08, 2015

TJ Drama performs annual Knight of One Axe

(Story)

Jan 29, 2015

Jefferson students refurbish computers for underprivileged families

(Story)

Jan 26, 2015

Varsity wrestling competes at Joe Verciglio Memorial Tournament

(Story)

Jan 18, 2015

Jefferson plays Stone Bridge in boys' basketball

(Story)

Jan 06, 2015

FCPS is too shy about closing schools after last year's harsh winter

(Story)

Jan 04, 2015

Top 14 of 2014: Best Dressed Celebrities

(Story)

Dec 21, 2014

"Annie" reinvents classic story of love and family

(Story)

Dec 07, 2014

Pentatonix's Christmas album steals the spotlight

(Story)

Nov 24, 2014

Students waltz at Viennese Ball

(Story)

Nov 17, 2014

TJ Drama delivers with impressive rendition of "The Front Page"

(Story)

Nov 06, 2014

This election may have been conservative, but that doesn't mean it wasn't progressive

(Story)

Oct 28, 2014

TJ Oceanography students watch screening of "Mission Blue" at the White House

(Story)

Oct 21, 2014

Orchestra performs fall concert

(Story)

Oct 18, 2014

"Book of Life" brings Halloween early this year

(Story)

Oct 16, 2014

The PSAT is a faulty standard of comparison for identifying scholarship awardees

(Story)

Oct 12, 2014

tjTOMORROW: Brown University

(Story)

Oct 04, 2014

Women's basketball holds first interest meeting

(Story)

Sep 28, 2014

SGA announces Homecoming Court and shows off floats at halftime

(Story)

Sep 18, 2014

Homecoming Asking Week 2014: Thursday

(Story/Media)

Sep 17, 2014

Homecoming Asking Week 2014: Wednesday

(Story)

Sep 09, 2014

Don't trail behind! Understanding the trailer numbering system

(Story)

Sep 05, 2014

Classes start homecoming preparations

(Story)

Aug 31, 2014

And the winner is…

(Story)

Aug 29, 2014

And the winner is…

(Story)

Aug 24, 2014

The early bird catches the worm (and the audience): DOO-WEE-OOO

(Story)

Aug 22, 2014

And the winner is…

(Story)

Aug 20, 2014

The early bird catches the worm (and the audience): Is this Dallas or General Hospital?

(Story)

Aug 16, 2014

The early bird catches the worm (and the audience): #DontKillSeanBean

(Story)

Aug 15, 2014

And the winner is…

(Story)

Aug 11, 2014

TJ Dance Team starts practice for upcoming year

(Story)

Aug 08, 2014

And the winners are…

(Story)

Aug 05, 2014

Common Application opens for seniors

(Story)

Jul 26, 2014

TJ Operation Wallacea returns from Indonesia

(Story)

Jul 25, 2014

And the winner is…

(Story)

Jul 18, 2014

And the winner is…

(Story)

Jul 11, 2014

And the winner is…

(Story)

Jul 04, 2014

And the winner is…

(Story)

Jun 20, 2014

tjTODAY Summer Photo Contest Rules

(Story)

Jun 14, 2014

Students prep for final exams

(Story)

Jun 08, 2014

"Avatar: the Last Airbender" themed jDAY brings fun to end of year

(Story)

Jun 01, 2014

"Maleficent" makes a good guy out of the Mistress of all Evil

(Story)

May 26, 2014

New FCC regulations threaten net neutrality and an open Internet

(Story)

May 18, 2014

Students kick off SOL week

(Story)

May 09, 2014

Snapchat adds features to enhance its experience

(Story)

May 06, 2014

TJ Drama performs "Urinetown"

(Story)

Apr 27, 2014

Students kick off month of promposals – Week 1

(Story)

Apr 14, 2014

Eighth period office implements changes to call-in system

(Story)

Apr 08, 2014

Students embark on field trip to France

(Story)

Apr 07, 2014

New Captain America wows audiences with flashy action scenes

(Story)

Apr 07, 2014

Administration purchases umbrellas for student use

(Story)

Mar 31, 2014

Jefferson crew is successful at first regatta

(Story)

Mar 09, 2014

Spring sports struggle with the weather

(Story)

Feb 28, 2014

Students need to refrain from unethical scalping in regards to I-Nite tickets

(Story)

Feb 21, 2014

Namaste uses lottery system to sell I-Nite tickets for Jefferson show

(Story)

Feb 16, 2014

Boys Basketball celebrates senior night

(Story)

Feb 02, 2014

Super Bowl Stats

(Story/Media)

Jan 28, 2014

Shawn DeRose named 2014 Outstanding Assistant Principal of Virginia

(Story)

Jan 24, 2014

Parents should be kept well-informed in the college search process

(Story)

Jan 17, 2014

Swim team does annual team Rob the Cradle askings

(Story)

Jan 10, 2014

Students examine fish in marine biology class

(Story)

Dec 27, 2013

Top 13 of 2013: Books

(Story)

Dec 21, 2013

Jefferson's choir groups perform winter showcase

(Story)

Dec 09, 2013

Students from every grade level participate in school level finals

(Story)

Dec 06, 2013

"Dido and Aeneas" stuns audience with vocal performance

(Story)

Nov 27, 2013

WebAssign: Study tool or stress monger?

(Story)

Nov 18, 2013

Ready for takeoff: All systems go

(Story)

Nov 10, 2013

Speaker brings proteomics to Jefferson

(Story)

Sep 28, 2013

Counselors meet with National Merit semifinalists to discuss application process

(Story)

Sep 23, 2013

Seniors win Homecoming spirit week after a close race

(Story)

Sep 22, 2013

Juniors win Musical Extravaganza

(Story)

Sep 18, 2013

Jefferson gets new assistant principals

(Story)

Sep 16, 2013

Juniors perform their cheer during Monday's pep rally

(Story)

Sep 10, 2013

High level French class gets cut

(Story)

Sep 09, 2013

Homecoming Asking Week: Monday

(Story)