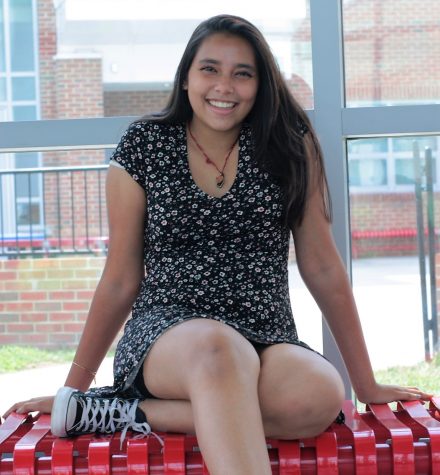 If you combined winged eyeliner, an avid love for music, and a bright smile together in a person, you'd be left with none other than Pratika Katiyar. Now a sophomore, she continues to write articles for tjTODAY online and print, and manages eighth period staffers as a team leader. She is an active member of Women Interested in Science and Engineering (WISE) and the TJ golf team, and she enjoys channeling her voice on the public forum debate team.
Pratika has been a part of 8th period TJ Media since her freshman year, but she has wanted to work in journalism ever since she visited CNN studios earlier. She also enjoys writing poetry, narratives, and persuasive pieces.
 In the future, Pratika hopes to pursue a career in either politics, law, or journalism.
Pratika Katiyar, Team Leader
Sep 16, 2019

Activities Fair introduces freshmen to school activities

(Media)

Aug 20, 2019

Esports come to VHSL

(Story)

May 24, 2019

Friday night vibes: "Easier"

(Story)

Apr 26, 2019

Friday night vibes: "ME!"

(Story)

Apr 05, 2019

Cause for Course Standardization

(Media)

Feb 15, 2019

Friday night vibes: "11 Minutes"

(Story)

Feb 08, 2019

Friday night vibes: "Who Do You Love"

(Story)

Jan 07, 2019

Top 8 of 2018: Underrated Songs

(Story)

Nov 30, 2018

Friday night vibes: "Better To Lie"

(Story)

Nov 09, 2018

Friday night vibes: double the trouble

(Story)

Sep 05, 2018
Nov 05, 2018

Swigging into the holiday season with Starbucks

(Story)

Nov 02, 2018

Friday night vibes: "Back to Life"

(Story)

Oct 26, 2018

Dethroning the cover kings

(Story)

Oct 11, 2018

Instagram Story: Homecoming 2018 Pep Rally Day 4

(Story)

Oct 09, 2018

Instagram Story: Homecoming 2018 Pep Rally Day 3

(Story)

Sep 26, 2018

"Head Above Water" takes a dive into a new style

(Story)

Sep 21, 2018

Blitzing the Boundaries

(Story)

Aug 31, 2018

To All the Boys I've Loved Before made me fall in love

(Story)

Mar 28, 2018

5 Seconds of Summer comes back with "Want You Back"

(Story)

Nov 28, 2017

Freshmen elect first class council

(Story)

Nov 03, 2017

Crossing more than finish lines: TJ Cross Country

(Story)

Oct 18, 2017

The homework behind Homecoming

(Story)