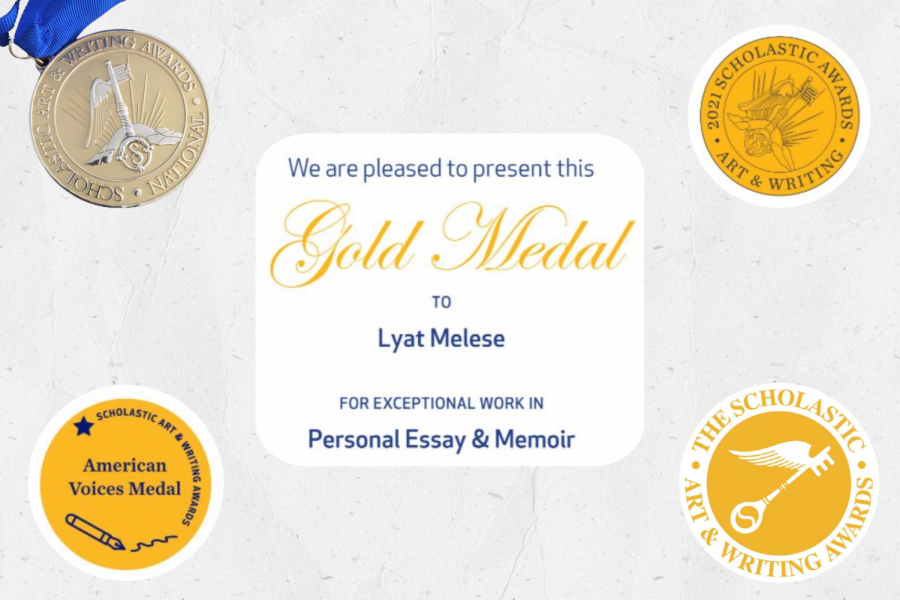 Image by Rachel Lewis
Sophomore Lyat Melese didn't plan to enter the Scholastic Writing Awards, but her English teacher urged her to because of her profound skill and voice. With her teacher's guidance, Melese submitted a personal memoir named "I Will Not Forget". With a powerful title and a heartwarming story, Melese received a Gold Key and a nomination for the American Visions Medal.
This competition has a wide range of awards coveted by many, including gold and silver keys. The best of the best student writers, painters, and artists are challenged in this competition, in which they submit their impressive works of writing and art.
"I didn't know what I was going to write about, but then I wrote it and felt really good about it. So, I submitted it," Melese said.

"I Will Not Forget" addresses Melese's childhood and the memories she lessons she kept with her years after. When Melese was growing up up as a young child in Ethiopia, she met the young women and ladies that were working for her family home. 
"The time and the place they lived [in] were really difficult…. There was a lot of poverty, there was a lot of domestic violence," Melese said.
They taught her various fundamental skills, including reading and writing, and lessons on hardship and perseverance. Melese and these ladies grew closer, proving that family is more than blood.
"They were the first people to teach me how to write. Their experiences and strengths kind of shaped me as a person," Melese said. "They kind of grew to be my sisters. We were family."
American Visions is an award where gold key winners from the Scholastic Writing competition are selected. Those who show a unique vision and a new voice through their works of writing and art and have already won a gold key are nominated for the American Visions award.
"I wasn't expecting it. I guess you can interpret it in different ways. People in America have different experiences from different places, and maybe the point of having these visions is that different people with different experiences form the American Vision," Melese said.
Melese plans to submit another piece of writing to Scholastic in the future.
"I think I've grown more confident in myself and my writing skills now," Melese said.