Friday night vibes: "11 Minutes"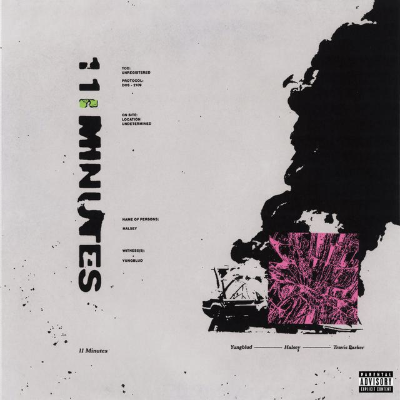 I wasn't really supposed to discover this song, it just kind of happened.
I was stuck in a Spotify rabbit hole when I saw this song and added it to my playlist on a whim. I took a chance as all music fanatics do, and this time, my pay off was four minutes of pure bliss.
The newest song by YUNGBLUD featuring Halsey and Travis Barker, "11 Minutes", delves into the aspects of a self-sabotaging relationship. The song begins as a normal pop song, but the lyrics quickly take a dark turn. Both Halsey and YUNGBLUD reminisce about the relationships they've ruined and regretted. My personal favorite lyric is when Halsey sings "Tell me what you need, I can make you more than what you are." The song is so beautiful that though these lyrics stand out to me the most, the rest are still exceptional.
While I normally don't listen to YUNGBLUD, Halsey is one of my favorite artists. Her vocals shine when she hits the high notes in this song, and contrast well with YUNGBLUD's raspy, deep voice. Travis Barker, the drummer for Blink-182, adds to this song in an instrumental aspect, allowing the genre to cross the line between pop and rock. Barker strategically uses dynamics to intensify parts of the song, such as the refrain and even the chorus.
In the end, while this might be one of Halsey's best pieces yet, I don't think I would listen to just YUNGBLUD by himself anytime soon. The British singer's aesthetic and voice may fit those who are hardcore rock fans, but I think I'll stick to Halsey for now. As for "11 Minutes", I'll be expecting another collaboration from Halsey sometime soon, just for the sake of my sanity.
Listen to "11 Minutes" and the rest of my Friday Night Vibes playlist below: