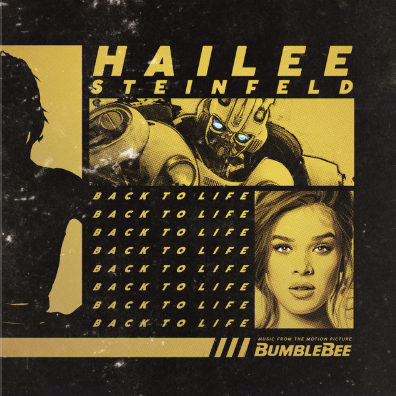 Photo courtesy of Spotify
My music taste is all over the place, and I'm not kidding when I say that. I can go from EDM to pop to rap in a matter of minutes. In other words, I'm a music junkie, and I've decided to put my superpowers to good use by reviewing one new song each week to help others craft their playlists.
Our Friday night vibe this week is a new song from the upcoming "Transformers" movie, "Bumblebee." Hailee Steinfeld's debut song "Back to Life" came out today, and like previous songs by her such as "Let Me Go" and "Most Girls", this one is a total bop. However, when I heard it, I realized that it is quite different from her previous releases. Not complaining though, because I can definitely get behind this shift in style.
Now Hailee Steinfeld may not be as well known or popular as artists such as Beyoncé or Kanye West, but she's a hit in the making. The "Pitch Perfect 2″ star has collaborated with musicians like Zedd, Florida Georgia Line, Alesso, and Grey. "Back to Life" marks her first single of 2018, and while she has been busy working on the set of "Bumblebee", the new song contains so much heart that it reflects otherwise.
On the pop-electronic track, Steinfeld's vocals shine through and soar over an irresistible synch beat with an unmistakable Chainsmoker-esque drop. Not only is the song catchy, but it's versatile. With it's danceable momentum, you can add it to any playlist.  
"I can't believe this is finally happening. This will be the first time I have a song of my own in a movie that I've made," said the singer, taking to Instagram earlier this week. This is a huge leap for Steinfeld, as she will also be performing "Back to Life" for the first time at the MTV EMAs, which will take place on Nov. 4.
Listen to "Back to Life" and my Friday night vibes playlist below: