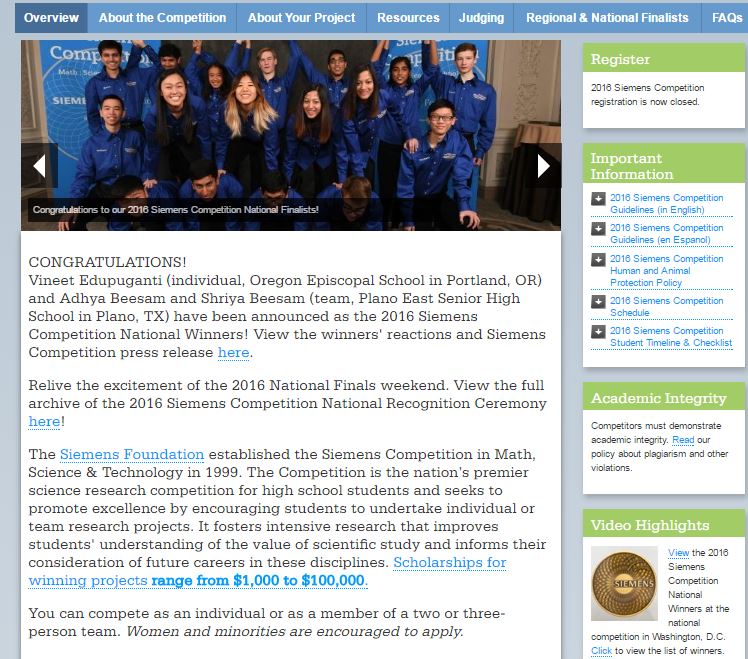 Christine
For the November print issue, I wrote an opinion piece that explored different sides of my personal experience regarding organizations with tuition-based research programs. Although I contributed to the following article, I contributed objectively and without bias. Our adviser worked meticulously to help us approach every side of this issue. Working for the last month in order to ensure objectivity and accuracy, our aim was to dispel rumors and to present as objective, truthful, and accurate of an image of the organization and research ethics as possible. With this purpose in mind, we reached out to Dr. Gefei Qian and Dr. Xuan Luo, National Graphene Research and Development Center's (NGRD) co-directors, for comment on the various topics discussed in this article. Despite being interviewed, both declined to be quoted.  
Christine Zhao
What is NGRD?
The National Graphene Research and Development Center strives to expand current research in the properties of graphene, with a particular focus on graphene-based spintronics and graphene-based photovoltaic energy materials. Its Youth Scientist Program (YSP) focuses on providing a research opportunity to high school students. For ten weeks during the summer, NGRD incorporates three consecutive research sessions into its YSP program: a research preparation, project, and paper session. After NGRD's directors review submitted applications and students participate in interviews, applicants that demonstrate a strong interest in scientific research are accepted into the YSP program.
NGRD offers a summer research program similar to those available for high school students in the DC-Metro region. For example, George Mason University's Aspiring Scientists Summer Internship Program, MITRE Corporation's Co-op and Internship Program, and the National Institute of Health's Summer Internship Program all offer research opportunities to young adults. NGRD's Youth Scientist Program is committed to providing students with the opportunity to enjoy graphene research and pursue high achievement in scientific research. However, there are critics that oppose the activities of the Youth Scientist Program; anonymous posts appeared on Reddit and Facebook in mid-December, criticizing NGRD because they claimed NGRD gave its students an unfair edge over Siemens Competition and Science Fair entrants.
Social Media Controversy: Evaluating the Claims
TJ Vents, a Facebook page used to express submitted frustrations and distress, began catalyzing social media controversy over the ethics of NGRD on Dec. 18. Two anonymous writers expressed their indignation, accusing participants of purchasing their projects and gaining an unfair advantage over Siemens Competition entrants without mentors.
A day later, on Dec. 19, an anonymous post titled "Exposing the National Graphene Research and Development Center" appeared on Reddit, bringing further charges to the organization's functions. The anonymous author, GrapheneGate, accused NGRD of appealing to affluent Asian-American families, unethically writing papers for participants, selling research projects to students for Siemens, and promoting its program as a means of entrance into prestigious colleges.
One student who participated in NGRD's Youth Scientist Program is Gena, who chose to remain anonymous; she did not want to be accused of cheating and did not want her peers to know of her participation, especially due to the current controversy and the cyberbullying.
Though NGRD did advertise to Chinese-American parents through Chinese school, Gena denies GrapheneGate's claim of NGRD co-director Dr. Luo's influence on research papers and projects.
"It kind of made me really uncomfortable to read all that stuff, because I know that I wasn't trying to go in there and buy a project or anything," Gena said. With Dr. Luo's assistance, students would independently write and rewrite the introductory paragraphs, as well as go into detail about what has done in their field before. However, for the rest of the paper writing process, "Dr. Luo just gave general outlines, and then we had to write the paper."
Dr. Luo was hired as Jefferson's optics lab director in 2015 through a competitive process by a team of interviewers. Her academic background in computational physics and graphene research, as well as her willingness to work part-time, distinguished her from the other applicants.
"Among the team of people that interviewed her, we thought that she would be the best fit for the part-time opening that we had available at that time," principal Evan Glazer said. "She was willing to work part-time. She has a Ph.D. in a core content area. I mean, the other applicants had that too; there were a lot of qualified applicants, but not many that were willing to work part-time."
Theo, another NGRD participant, who requested anonymity in order to stay out of online arguments about NGRD, concurs with Gena's point, adding that although Dr. Luo reviewed students' drafts after class, she "wouldn't actually fix it for you," Theo said. "She'd just tell you it was wrong."
Theo describes their research experience as largely independent and student-driven, with Dr. Luo mainly providing structure and guidance during the first five weeks of the ten-week program.
"At the beginning [of the summer program], [Dr. Luo] assigned homework so you could get more familiar with the program and the math you needed to do stuff," Theo said. "But after two weeks, it was starting to become research, so you'd have to read articles and summarize them and send them to her so she could review, make sure you were going on a path that she would be able to teach. And then starting maybe the fifth week, we started coding or setting up calculations for our projects that continued for the next six weeks."
Contrary to the Reddit post, participants did not purchase scientific research. "You don't get spoon-fed [projects]," Gena said. "You actually have to do the work yourself, do the calculations, and you have to write the paper yourself." Over the span of ten weeks, students at NGRD's research institution diligently ran calculations, which sometimes required students to work until the break of day.
"The research and learning at the beginning is maybe four hours per day outside of class, and then three hours everyday at night," Theo said. "When we started doing our own calculations, sometimes I'd have to stay up until 3 a.m. running things, like set them up properly, and then the next morning, it'd just be five to six hours of more research before going to class for another three hours."
Nevertheless, as 2016 came to a close, controversy continued to unfold over NGRD's Youth Scientist Program. On Jan. 5, 2017, Angela Ma, TJHSST class of 2015, wrote a blog post on "Just Angela Things" to discuss the detrimental effects of competition and parental stress on students and the Jefferson community. Ma briefly mentioned organizations like NGRD to make a point about how unhealthy the competitive environment and parental pressure has become.
Within a few days, Ma's post had been viewed, liked, shared, and commented on by hundreds of Facebook users. The controversy escalated so rapidly that on Jan. 8, NGRD's co-director Dr. Gefei Qian penned a letter to the Chinese-American community to refute claims regarding NGRD. This letter was released through WeChat, a messaging app used by the Chinese community.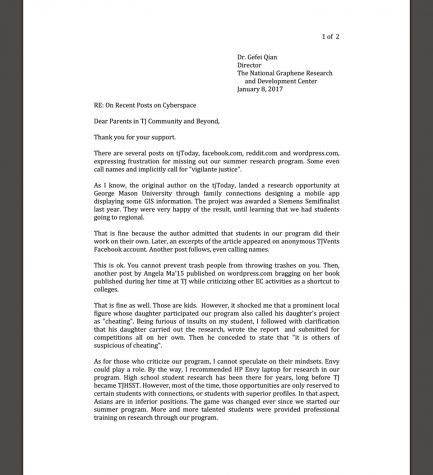 "Dear Parents in TJ Community and [b]eyond," the letter read, "Thank you for your [s]upport. There are several posts on [tj]Today, facebook.com, reddit.com and wordpress.com, expressing frustration for missing out our Summer research program."
Qian addressed frustrations voiced on social media by reaffirming the purpose of his organization: to create research opportunities for students without the necessary connections.
"Most of the time, [high school student research] opportunities are only reserved to certain students with connections, or students with [s]uperior profiles," Qian said. "In that aspect, Asians are in inferior positions. The game was changed ever since we started our [s]ummer program. More and more talented students were provided professional training [o]n research through [o]ur program."
According to Theo, NGRD provided him that kind of professional research training. The Youth Scientist Program functioned much like an advanced physics course, teaching him a multitude of skills that he deems beneficial for science competitions and senior research.
"They [NGRD directors] teach you a bunch of things that you won't learn in school," Theo said. "The programs they use, they're not very common; you need specific connections to get them." However, Theo feels that the purpose of NGRD leans more towards winning awards.
When the Youth Scientists Program first began, NGRD's directors made the students aware that their research would be used to enter the Siemens Competition. A title in the Siemens Competition, as well as the drive to learn something new, served as significant motivators for Theo's participation in NGRD.
"I just wanted to learn a bit more and maybe win an award, because they did say something about a lot of their students will win in the competition," Theo said.
Entering Science Competitions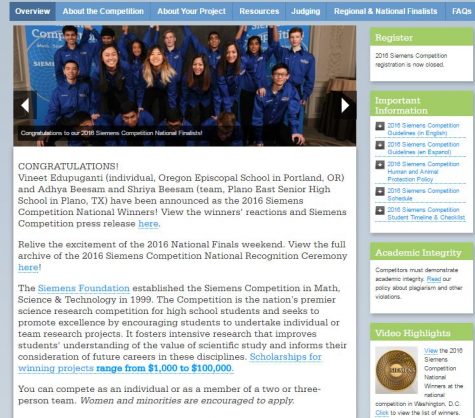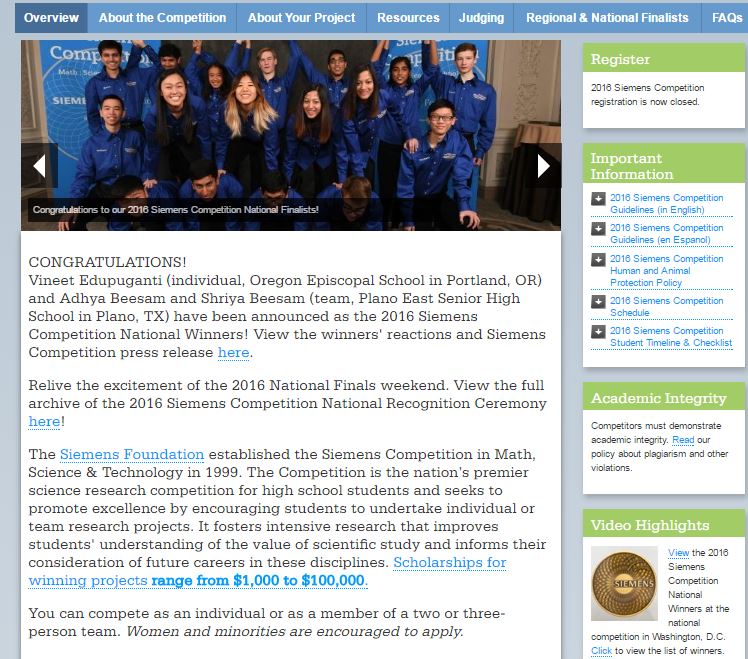 Due to their time frame, summer experiences like NGRD often prompt students to submit their projects to external competitions. The Siemens Competition, for example, sets its deadline for late September; work finished over the summer is in optimal position to be entered. In the event that students participate in summer research experiences, the principal encourages students to submit.
"I love when students enter the Science Fair, even if they're only halfway finished with a project," Glazer said. "It allows them to get feedback from an expert. When [students] share research beyond a mentor or teacher, it just improves the credibility of their work."
However, Glazer believes that the principal motivation for research should not lie in its competitive nature.
"I don't believe that doing research should be done solely for the purpose of winning competitions," Glazer said. "Research is a process of exploration to tackle challenging questions that have unknown answers so that our students can be regarded as future problem solvers and innovators — doing some of the most challenging work that's needed in scientific and engineering fields, as well as impacting humanity in a positive way. Research is not about competitions in my mind; it's about the nature of inquiry and empowering students to feel comfortable tackling the unknown."
Funding Research Experiences through Tuition
Because students do not receive a stipend for their work at NGRD, Glazer equates the program to a research experience rather than an internship.
"I see a research experience… as working with a mentor who will give you some options on what you can do in a research project of your choosing," Glazer said. "I think of an internship as an opportunity to get paid for activities where someone directs you on exactly what you should do."
Getting paid as opposed to paying for a research experience brings up another point of controversy. Anonymous posts through TJ Vents and Reddit have often brought complaints against the cost of participating in NGRD, where tuition is required for participation. Junior Nick Begotka questions the ethics of NGRD's program fees and the extent of the directors' support.
Thank you Dr. Luo and Dr. Qian for supporting our students in the NGRD youth scientist program! pic.twitter.com/ruFBfPG9sT
— Thomas Jefferson HS (@TJColonials) August 13, 2016
"NGRD is run to make a profit," Begotka said.  "If it were run to foster scientific innovation, why make the fee so incredibly high and the organization so secretive? Second of all, it is evident on its website how extreme of an advantage NGRD gives students who participate. The numbers speak for themselves; 15 of their students made it to semis and two of them won third in the nation. This 'mentorship' NGRD provides is not the traditional supplement of resources that a student cannot afford or the occasional assistance with operating advanced machinery. The amount of support this 'mentor' provides is, I think, unprecedented."
In exchange for the support and mentorship that she and her husband provide, Luo charges $10,000 in tuition from participants in order to run the program.
"The money is for the knowledge that [Dr. Luo] gives to the students," Gena said. "She thinks that the knowledge is worth a lot."
The equipment the program provides, including computational software such as ABINIT and JMOL, is available for free online at no expense to NGRD. Participants themselves have come to question the purpose of NGRD's program fees.
"I honestly don't know [what the money is used for]; I think they have this lab that they actually work at besides the basement, but otherwise, I think they just keep the tuition," Theo said.
Theo believes that what he received from the program was not worth the cost his family paid.
"For the money, I don't really think it's really worth it," Theo said. "I didn't get finalist or anything, so you know the cost is $10,000 per team or per person, and I don't think it's worth that much."
In addition, cost was not a factor that motivated him to participate in the program. After hearing about NGRD from Chinese school, Theo was initially reluctant to enroll.
"I wanted to go, but then I looked at the workload and I didn't want to go anymore," Theo said. Nevertheless, his parents continued to pressure him to attend. "So last summer, they ended up signing me up for it, and I went for 11 weeks."
Parental Pressure
Parental pressure as a motivating factor is where critics see additional fault with research organizations such as NGRD. Students forced to participate in the program when they don't want to brings another aspect of TJ's culture into the debate.
"I've heard some students who were in support of the program, who said, 'You know what? I think it was a good experience and it was perfectly ethical,'" Begotka said. "But I've also heard of students who were pressured by their parents to participate in NGRD, and now regret doing so."
This aspect of NGRD, in which parents push their children to pursue research, links back to what Ma was trying to relate in her blog post: the influence that parents have, and how it might be destructive to a child's passion. In her post, Ma highlighted the parent-motivated aspect of program participation as one of the stressful implications of parental pressure, relating the story of an unwilling participant who was pressured by his parents to enroll in a competitive research program. Decisions like this can often quell passion-motivated independence and success.
"I feel like it [parental pressure is] very hard to address, and definitely very hard to change in the minds of the parents, because the parents are always trying to do the best for their children," sophomore Eric Sun said. "If you're going to try to tell a parent not to sign their child up for a program that'll teach them more physics, it's very hard to stop a parent to do that. That's not what we're thinking, like 'Oh you should stop your child from doing this.' The mindset of some parents who are just pushing their children to win academic rewards is something that I think needs to be changed, but changes very slowly."
In order to address that mindset, Begotka asks parents to contemplate where their priorities lie.
"Is their priority [for] their kid to become an impactful scientist? Or to get their kid into MIT, or another prestigious college?" Begotka asked. "If a parent's priority is to deepen their child's interest in STEM, independent research in the JUMP lab might be the better option."
Prospective Solutions
If a student feels that parental pressure at home is becoming overwhelming, Glazer advises students to advocate for themselves through open conversations with parents and the support staff at Jefferson.
"If students feel the pressure to earn an 'A' is due to their parents' influence, then we need to involve parents in more conversations," Glazer said. However, he acknowledges that every family situation is unique and parents "often know what's best for the kids," so he encourages students to "seek the support services of the school to help families make decisions about their child's education."
Begotka and Sun urge NGRD to open the program up to a larger pool of students, including "freshmen and sophomores who are interested in physics research but haven't had the opportunity to take a class yet."
"Right now, it seems like it's very secretive and selective," Begotka said. "I understand that it is more advertised to the Chinese community. Opening up NGRD to more students, by lowering the cost and advertising to all students  would fulfill its mission of assisting students who are passionate about scientific research, not about designing a winning project."