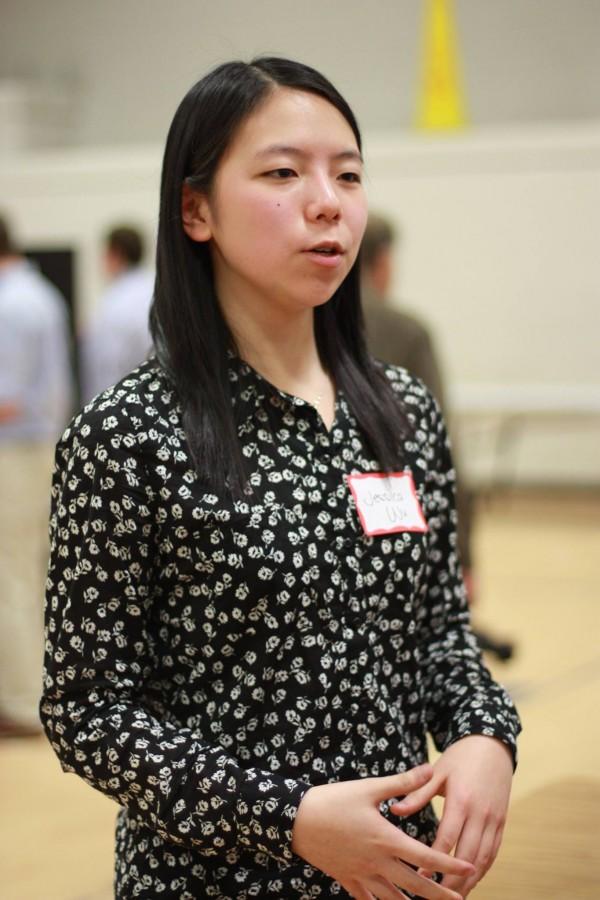 Photo courtesy of Amritha Justin
On Feb. 4, the participants of Jefferson's Science and Engineering Fair completed their semester-long course of experimentation and analysis with a school wide presentation of their independent projects to students, faculty and judges.
"What I liked the most about science fair was being able to present my findings to the TJ community," junior Victoria Yang said. "A lot of science competitions don't have interactive judging, but science fair requires you to be able to think on your feet."
With topics ranging from astronomy to chemistry and physics, the diverse array of projects reflected the students' wide interests in the realm of Science, Technology, Engineering and Mathematics (STEM).
While junior Ava Lakmazaheri brought a model of a humanoid robot to present her project on brain-actuated robotics, senior Rhea Sharma studied the influence of genetics on the ability to conduct visual working memory. Additionally, senior Pooja Chandrashekar investigated the methods for diagnosing brain injuries.
Senior Katherine Van Kirk conducted her research on "Comparing the Previously Observed E-Mode Polarization Swirls in the CMB with Records of Quasar Locations," in which she is attempting to demonstrate that the universe is growing at a faster rate than it first did when the galaxies were first formed.
"I'm halfway through my research so I haven't been able to make a conclusion thus far, but the first thing that I'm starting to conclude based on what you can generally see is that space was expanding faster three hundred eighty years after the Big Bang when the universe became transparent then when the first galaxies formed," said Van Kirk.
The Jefferson Science and Engineering Fair acts as the first major step for advancing into larger competitions later the year. Several participants who received the best evaluations from judges in the school wide presentation will be qualified to compete in the regional contest on March 20-22. If they are awarded in the regional level, the students will be able to compete in the state wide competition, followed by the International Science and Engineering Fair (ISEF) on May 10-15, which successfully culminates the students' year-long evaluation of their projects.
In Jefferson, the contest officially initiated with the interest meeting held on Sept. 24. The participating students were expected to complete several requirements for the contest throughout the semester, which included asking a teacher to act as their sponsor and turning in the required forms for both Fairfax County Public Schools (FCPS) and ISEF. In addition, the students prepared an abstract and a project display board prior to the presentation.
"Science fair gave us more experience in presenting to adults," junior Jennifer Lee said. "It is something we would have to do a lot later if we do become real researchers."
On Feb. 9, the students will find out whether they will be advancing into the regional round when they participate in the awards ceremony to be held during eighth period.
"I thought the most beneficial part about participating in the fair was the time I spent preparing for the project," Yang said. "I also liked having the opportunity to see the work that other people did, as most of them were done outside of school."