P.E. should not be required for athletes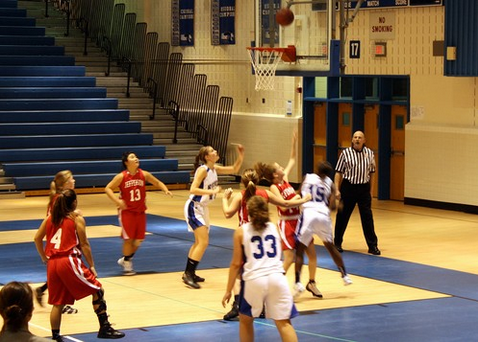 Let's be honest: Most students at Jefferson don't "come for the sports," as our motto so proudly proclaims. Nevertheless, the school still offers a wide variety of sports, from football to field hockey and golf. However, the athletes participating in these sports are still required to take Physical Education (P.E.) despite already having two to three hours of practice every day.
Being on the field hockey team and having fifth period P.E., I know it can be extremely difficult  to wake up at 4:30 a.m. every Friday, run a mile at 6 a.m., only to walk down from the track and get told, "Alright! We're running the mile today!" Not only is this an incredibly tiring task, but also it could potentially injure players. Students have already gotten stress fractures caused by excess stress in their bones—most often in the lower leg—from the simple two hours of exertion a day. With the extra hour and a half of P.E. every block day, the possibility of exercise-related injuries can increase. Although having more exercise is healthier, there's a fine line between pushing oneself and pushing oneself too far.
P.E isn't just running, though. The class also has a quarter devoted to health. Any good health class will tell students that not getting enough sleep is bad, to say the least. The two and a half hours of practice after school and the long commute make it so that the athletes only get home around 7:45 p.m. which, consequently, means that most people finish their homework at 11 p.m. or even later. Generally, seven or fewer hours of sleep aren't enough for teens to function at full capacity. For worse, on game nights, which not only start at 7:30 p.m., but also end at 9:30 p.m., students get home around 10:30 p.m. to finish their work.
There are some problems that can arise by letting student athletes not take P.E. as one of their seven courses, such as deciding what would replace the year-long course. With the lack of time for homework already, and because some athletes only take a sport for one or two quarters, taking another academic class instead of P.E. is unrealistic. However, the student-athletes could attend a study hall to alleviate the stress of homework. Even if students are missing the health quarter, some of the information could be gone over during study hall, or could be reviewed in their Biology classes. The information itself could also be provided in Blackboard for the athletes to look over.
There are additional concerns about how the students would reintegrate into P.E. once their season ends. Most seasons don't end exactly with the end of the academic quarter, so the players would return to their P.E. class a few weeks earlier. Since they would not be able to make up all the missing work, the grading would have to be scaled to accommodate for the specific circumstances. The P.E. teachers would have to come up with a new grading system for the student-athletes that would be different from that of the current students.
Barry Potoker, a P.E. teacher at Jefferson, said that he believed if students skipped P.E. they would miss the opportunity to try new sports and that student-athletes should focus on studies first and sports second. Although that's a legitimate point, students will still have an opportunity to participate in these activities because most are offered as individual sports during the seasons.
Whatever problems exist with taking P.E. off an athlete's schedule, the benefits outweigh them. All the inconveniences of getting rid of P.E. can be solved, but the anxiety and sleeplessness of a student can't be.